In college sports, it can be the kiss of death: getting labeled a "system" or a "system player." In most circles, such a label is akin to being called a gimmick or a trick. The clear implication is that a team or player has to rely, or revert, to a system due to a lack of talent or resources in order to compete and be success at a high level.
Sometimes such a move is more easily explained or accepted: Navy football and their triple option, June Jones' spread at Hawaii, Tim Tebow.
For as great a player as Tebow was, how often was some expert or commentator questioning his ability to step up to the NFL due to his style of play and the style of offense (designed around and to Tebow's singular talents and profile) at Florida. (For that matter, how many Spurrier receivers with huge numbers from his pinball offenses have been drafted high and failed in the NFL?) Of course, Tebow is a undeniable freak, was drafted, and figures to get a good shot at an NFL starting job and success this fall (whenever the NFL decides to get its head out of its ass and starts the season).
In basketball, the system example is obvious: Princeton. Which brings us to Richmond…
Mooney has worked hard and built up the program from the depths of a few years ago and achieved one of the best two-year periods in school history: 55 total wins, numerous BCS victories, an A10 championship, two NCAA berths and a Sweet Sixteen. He did it, and the players did it, with a "modified Princeton offense," as every announcer and commentator covering the games loved to hammer at the viewers.
To any casual fan or observer, the point was made: more than a super talented point guard, savvy role players, or a match-up nightmare of a power forward, the Spiders tricked opponents into losing through confusing offensive sets. The players were merely cogs in a machine; they could've been anyone, if given enough practice.
Admittedly, that is almost assuredly an over simplification, but there is a fair grain of truth in it as well.
The main cogs from this two-year stretch are now gone. David Gonzalvez graduated in 2010 and headed to Europe. Kevin Anderson and Justin Harper finished their careers this March and now take NBA aspirations into the summer. As much as any win in a Spider jersey, the program needs this trio to be successful going forward.
Success by Gonzo, KA and Harp as pros would lend credibility not only to themselves but also to their alma mater. Long, productive careers can be offered as further evidence Richmond is more than just a "system:" it's a place were talented players go, grow and thrive. Their success can be sold to recruits. Can you put a value on Dr. Sweats being able to go into recruits' living rooms and hold up a picture of Harp in a [NBA team's] jersey and say "he's one of ours."
I say no.
Gonzalvez played this past season in Europe and helped his team to the Austrian first division title.
KA, who may be a late selection but will probably go undrafted, has already drawn interest from several teams and figures to have an opportunity to catch on with a club as an undrafted player.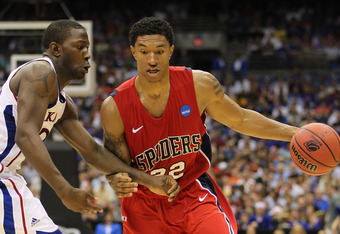 Harper in particular has an opportunity to be the best marketing the Spiders have had in years. He's gotten good reviews and some really positive press in the lead up to tonight's NBA draft, where he figures to be selected in the late first round. His size, shooting touch and athleticism project very well to the NBA. The last Spider drafted was Curtis Blair back in 1992. (Curtis is still in the NBA…as a ref.) Before that it was Johnny Newman, who capped a string of six years with a Spider drafted (including two in 1983), but when the NBA draft had several more rounds. The Spiders, however, have NEVER had a first-round selection. Until now?
A drafted Harper, and a successful NBA career, would go a long way towards dismantling the illusion that the Spiders are a simple system team. A program that produces NBA talent has to be taken seriously and can't be written off as gimmicky. A successful NBA player is as good as a marketing device as a program could ask for. The Spiders need one. To sustain this recent success and continue the programs upward trajectory, the team needs to put someone in the NBA.
The Spiders made some headlines and spotlights in the spring with their Sweet Sixteen run. An NBA player will help the program make more.
Heck, even VCU has Eric Maynor. Think it's a coincidence two years later they assembled the talent to make their run?
Good luck next week, Justin! Spider fans will be rooting for you, as always- for yourself and for Richmond. (And if you want to be selected by the Celtics and join another Spider, Kevin Eastman, well that'd make one particular Spider fan extra happy.)